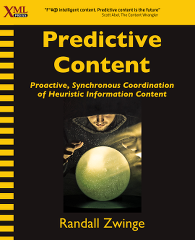 XML Press is pleased to announce that its latest book, Predictive Content: Proactive, Synchronous Coordination of Heuristic Information Content, by world-renowned author, educator, and public speaker Randall J. Zwinge will be available tomorrow, Wednesday, April 1, 2015.
Do you want your content to, finally, catch up with developers? Are you tired of always being at the tail end of the development process? Predictive Content gives you the tools to get ahead of the curve and keep content development where it belongs: ahead of the pack.
Randall Zwinge, author of ten books on the science of communication, says there are no tricks involved with predictive content; it's all out there for anyone to see. And his latest book will show you how to harness predictive content for your organization. Full of case studies and practical information, this book leads you step by step.
According to Zwinge, "Content reuse is a practical tool, as far as it goes. Predictive content takes the next step."
Here is a practical example from the book:
When you write the documentation for a hardware device, you can predict, with 100% accuracy, that you will need the following content:

If the unit does not perform as expected, turn it off and then turn it back on. If that doesn't fix the problem, unplug the unit and plug it back in again.
And here's another:
When a software app fails to work as expected, if you are running on Windows, reboot your system. If you are running a Mac, clearly the problem is operator error; read the manual and try again.
For more information, go to the book page for Predictive Content.