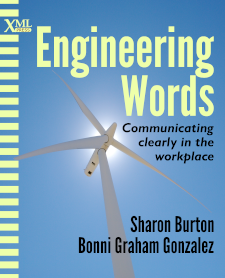 by Sharon Burton and Bonni Graham Gonzalez.
$35.95 (print), $24.95 (ebook).
Buy now at the XML Press eBook Store
Over the course of a career, every engineer needs to communicate, in both written and oral form, with other engineers and non-engineers. Yet, too many engineers never develop this basic skill. Engineering Words draws on the authors' extensive experience as technical communicators and teachers of a popular class in technical communication for engineers at the University of California, Riverside, to present a comprehensive introduction to communicating in the business world. This book covers everything from the basics of clear writing to résumés to cover letters to requirements documents to presentations and much more.
Engineering Words can be used as a textbook for classes that train engineers to be effective communicators. It can also serve as a self-study text that even experienced engineers will find useful for improving their communication skills.
Inside the Book
Welcome: introduces the book and what you will learn from reading it.
Clear Communication Guidelines: provides an overview of the basics of clear writing, and explains why engineers need to be able to communicate clearly.
The Business Context of Communication: an introduction to writing in a business context: who you are writing for (peers, managers, customers, and more) and what contexts you are writing in (financial, engineering, marketing, and more). In addition, the book provides an overview of the flow of money in a business and explains how understanding that flow can help you create business cases for your projects.
Résumés to Cover Letters: describes how to write résumés and cover letters that will help you get the job you want.
Flow of a Project in a Company: covers the steps in a project from the beginning through development to deployment and ongoing support and describes the documentation needed at each step along the way.
Designing Effective Presentations: being a successful communicator also requires verbal communication skills. This chapter covers the steps needed to prepare a successful presentation.
Handling Yourself and the Room in Presentations: covers what you need to do in the days immediately preceding your presentation, how to prepare on the day of the presentation, how to deliver your presentation, how to handle your audience, how to deal with questions, and how to follow up.
Human Cognition: to effectively communicate with humans, you need to understand how humans learn and how you can apply that knowledge as you try to teach or persuade an audience. This chapter provides an overview of the aspects of human cognition that apply to communicating.
Constructing Explanations: explores two important techniques you can use to explain complex topics. First, how to use visual techniques, such as white space, figure and ground, and grouping to increase the impact of your writing, and second, how to use techniques from the user interface world to better present information to your audience.
Personas and Scenarios: describes how to use personas and scenarios as part of the product specification process.
Writing Functional Specifications: how to write useful specifications that clearly define the features and functions of a product or service.
Testing Your Products: describes the different approaches that companies take to test products and describes both the testing process and how to properly document test cases and test suites.
References and Index: an extensive list of references for further exploration and a comprehensive index.
About Sharon Burton
Sharon Burton works remotely for a cybersecurity company as a principal content strategist and teaches part-time at University of California, Riverside in the Engineering department. Leveraging her graduate cultural anthropology education, her career has been built around making content and content development easier for both the business and the consumers of the content. In that time, she's also taught upwards of 8,000 people in corporate and university level courses.
In her spare time, she knits, sews, cooks, grows food, bakes bread, and rides her bike, can be found on the back of a motorcycle, and, pandemic allowing, goes to the gym. Two or three nights a week, Sharon teaches baby engineers to communicate at the University of California, Riverside, as part of the engineering program.
She is the author of 8 Steps to Amazing Webinars.
About Bonni Graham Gonzalez
Bonni Graham Gonzalez works for How to Manage a Small Law Firm, a coaching organization that teaches business skills to solo and small law firm owners. She also teaches part-time at the University of California, Riverside, in Bourns College of Engineering. Bonni's career has focused around storytelling, including designing and writing manuals that actually explain how to use products and creating award-winning marketing materials that both educate and sell.
When not marketing or thinking about marketing, Bonni crochets, beads, cooks, plays with her dog, and goes on road trips with her husband.