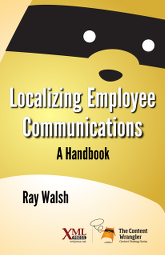 Localizing Employee Communications
by Ray Walsh.
$24.95 (print) $19.95 (Ebook).
Buy ebook bundle at the XML Press eBook Store
Global content in English isn't getting noticed. Localizing Employee Communications is a practical guide to ending conventional communication practices that stand in the way of effectively reaching employees around the world.
Adapting for language and culture is critical to reach customers, and the same is true for busy employees. This book shows you how to navigate some of the biggest challenges in cross-border employee communications by partnering with local business units.
This book argues that the ideal organization translates almost nothing. Instead, global headquarters provides only back-end support to local business units, who create and deploy employee content that's appropriate for their culture and local business realities.
Localizing Employee Communications draws on the insight of nearly 30 experts from a variety of communications disciplines, including Deborah S. Bosley, Gerry McGovern, Alan Oram, Jonathan Phillips, Alan J. Porter, Ann Rockley, Carmen Simon, and Val Swisher.
Inside the Book
Part I. The Landscape In Country
Part II. Leadership, Governance, and Budget
Part III. Low- and No-Cost Strategies
Part IV. Capabilities and Resources
Glossary
Interviewee Biographies
Index
About Ray Walsh
Ray Walsh is an American content consultant based in Prague. A one-time journalist, English language teacher, and later employee communications manager, he has broad experience in content creation for various industries in settings that include global multinationals based in the US and Europe.
Ray has worked in Belgium, Germany, and the Czech Republic for a total of more than 15 years.
What are They Saying?
"Just finished reading Localizing Employee Communications by Ray Walsh and bought several copies for my team. If your customers can't connect with your message they won't buy your product, adhere to your service, and won't enjoy their experience with your company."
— Martha Smith, Five-star review on Amazon
"Based on real-life experience, the book is sure to resonate with [corporate communicators] and give them plenty of ideas on how to rethink and hopefully improve their current approach."
— Libor Safar, Full review at Multilingual Magazine
Book Extras