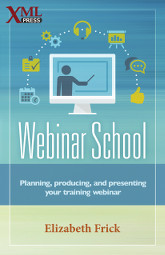 Webinar School
by Elizabeth (Bette) Frick. $19.95 (print), $11.95 (ebook).
When Bette Frick wanted to transition her live training classes to a webinar platform, she searched for advice on managing the technology and maximizing learner interaction. She found plenty of books about presenting marketing webinars but only a few books for trainers. She longed for simple tips to help engage participants in her technical and business writing webinars.
So, she had to learn by doing; she experimented with high- and low-tech strategies for keeping learners involved and enjoying her classes. Webinar School presents her practical tips for offering flawless webinars, keeping participants engaged, and having as much fun as the learners do.
Inside the Book
Preface
Webinar training compared to live classroom training

Benefits of training by webinar
Benefits of live classroom training
Maximizing webinars as a training tool

Planning your webinar
Preparing content for your training webinar

Three weeks ahead
Two weeks ahead and up to your webinar day

Producing and presenting your live training webinar
After your webinar

Perform post-webinar activities
Mine the chat log
Capture lessons learned

Low-tech tips for interactivity

Address webinar participants
Encourage peer feedback
Inject humor where you can
Bring in something of interest from participants' documents
Interact after the webinar

High-tech tips for interactivity

Explain your application
Show them how to chat
Practice polling
Use webcams
Open audio lines
Launch tests
Interact in other ways

Technology tips: hardware, presentation software, audio, Internet

Hardware
Presentation software
Audio
Internet connection

Expect three surprises!

Hardware backup: plan redundant technology

How not to kill your webinar with your slides

Five content principles for better slides
Five visual principles for better slides
Navigation tips

Tips for teams that produce webinars
How to get going – one step at a time
Bibliography
Checklist for webinar trainers
Checklist for webinar teams
Image Credits
Index
About the Author
Dr. Elizabeth (Bette) Frick teaches writing and communication by webinar to learners all over the world. Bette holds a PhD in English from the University of Minnesota and served as president of the Twin Cities chapter of the Society for Technical Communication (STC) from 2003-2004. She is a Fellow of the STC.
Dr. Frick is also board-certified as a medical editor by the Board of Editors in the Life Sciences (BELS) and serves as the Immediate Past President of the American Medical Writers Association Rocky Mountain Chapter.
She is the author of Business Matters: A freelancer's guide to success in any economy, also published by XML Press.