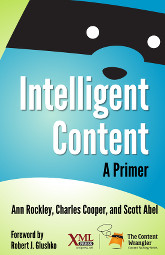 Intelligent Content: A Primer
by Ann Rockley, Charles Cooper, and Scott Abel.
$24.95 (print), $19.95 (ebook).
There's no question that our content is available to, and has an impact on, more prospects and customers than at any time in the past. We need to pay attention to that impact and develop better ways of making our content serve the needs of our organizations.
Intelligent Content: A Primer introduces intelligent content: how it works, the benefits, the objectives, the challenges, and how to get started. Anyone who wants to understand intelligent content will get a clear introduction along with all the reference information you could ask for to make the case for intelligent content with your management.
Inside the Book
Foreword by Bob Glushko, UC Berkeley School of Information
Preface
What is Intelligent Content
Why Do We Need Intelligent Content
Why Do Content Marketers Need Intelligent Content
The Benefits of Intelligent Content
Intelligent Content in the Organization
Opportunity: Increasing Customer Engagement
Opportunity: Increasing Service Revenue
Opportunity: Preparing Content for the Future
Building Blocks: The Content Perspective
Building Blocks: The Technology Perspective
Case Study: Investment Bank Increases Sales and Reduces Campaign Development Time
Case Study: Medical Device Company Slashes Production Time and Translation Expenses
Case Study: HMO Increases Revenue and Customer Satisfaction
Possibilities
Overcoming Objections to Intelligent Content
Transitioning to Intelligent Content
Getting Started with Intelligent Content
References
Recommended Resources
Glossary
Index
About the Authors
Ann Rockley
Ann Rockley is CEO of The Rockley Group, Inc. Ann has helped Healthcare, Finance, and High Tech companies create structured content strategies and adopt structured content management for more than 25 years. She was instrumental in defining the foundational concepts, strategies, and best practices that have led to the fields of intelligent content, content reuse, and structured content management. Rockley is a frequent contributor to trade and industry publications and a keynote speaker at numerous conferences in North America, Europe, and Asia-Pacific.
Known as the mother of content strategy, Rockley introduced the concept with her bestselling book, Managing Enterprise Content: A Unified Content Strategy. Ann created the concept of intelligent content and is the founder of the Intelligent Content Conference. Ann has a Master of Information Science from the University of Toronto and is a Fellow of the Society for Technical Communication.
Charles Cooper
Charles Cooper is VP of The Rockley Group, Inc. He has been involved in creating and testing digital content for more than 20 years. He works with companies to help them understand their content and ensure that it can be intelligently created, managed, and published quickly and consistently — and still meet the needs of their customers. He consults with clients, facilitates modeling sessions, develops taxonomy and workflow strategies, and speaks at conferences worldwide.
Charles is the Rockley Group representative on the OASIS Technical Committee for Augmented Reality.
Scott Abel
Known as The Content Wrangler, Scott Abel is an internationally recognized global content strategist who specializes in helping organizations deliver the right content to the right audience, anywhere, anytime, on any device. He writes regularly for business and content industry publications, is frequently selected as a featured presenter at content industry events, and serves on the faculty of the University of California, Berkeley, School of Information. Scott is a founding member of Content Management Professionals, serves on the Awareness Committee for Translators Without Borders, co-produces several annual conferences: Intelligent Content, Information Development World, and Content Strategy Workshops, and is the producer of The Content Wrangler Content Strategy Series of books from XML Press. The first book in the series, The Language of Content Strategy, co-produced by Rahel Anne Bailie (with the help of 50 expert contributors), is both a book (print, eBook, audio, and web) and a content marketing case study in single-source, multi-channel publishing. Scott's message is clear: Content is a business asset worth managing efficiently and effectively. His firm, The Content Wrangler (www.thecontentwrangler.com), exists to help content-heavy organizations adopt the tools, technologies, and techniques they need to connect content to customers.
What are they saying?
"While the majority of marketers are focusing on leads, likes and whatever they define as engagement, the real value is in creating content experiences that are scalable, consistent, personal and adaptable. Therefore, marketing in the future must be intelligent. This book is your introduction to the future of intelligent content marketing."
— Joe Pulizzi, Founder, Content Marketing Institute
"Speed to market, message consistency, and the other benefits that intelligent content enables will be a true competitive differentiator for organizations. The impact reaches far beyond marketing, content marketing, or technical writing; it goes straight to operational efficiencies that impact the bottom line."
— Michelle Killebrew, Program Director, Digital Marketing Transformation, IBM Cloud
"The practice and philosophy of intelligent content are critical to maximizing the value and cost savings that content contributes to the enterprise. But intelligent content is not the easiest concept to teach as we foster content excellence in the organization. Consequently, we are grateful for this highly informative primer, written by the best team imaginable for the task."
— Carlos Abler, Leader, Content Marketing Strategy: Global eTransformation, 3M
"Intelligent content will become a strategic business asset powering tomorrow's successful organizations. Intelligent Content: A Primer gives critical insight into the essential shift from content hand crafting to content factory manufacturing for the most human of activities – how we communicate. Content Industrialization is set to revolutionize how we think about, create, edit, translate, manage, deploy, publish and share information. Intelligent Content will transform traditional processes through intentional design in order to create knowledge powerful enough to drive the world's most successful companies."
— Diana Ballard, Global Account Director, LOGOS GROUP
"If you've been frustrated by a content problem in your organization, open this book now and start reading! Intelligent Content: A Primer tells you what happens when you treat your content like an asset—and for most organizations, creating intelligent content will make a real change in what's possible."
— Laura Creekmore, Creek Content
"You may be new to intelligent content, but intelligent content is not new. It may feel like disruptive technology, but it is not. It is a proven, mature methodology. When I first encountered this methodology ten years ago, I immediately saw that it simply makes sense. As a writer with an engineering degree, I knew it could be applied to many types of content in many industries. This book is a primer for those ready to learn the benefits of intelligent content. Read it and learn what is possible with your marketing content."
— Mark Lewis, Author, DITA Metrics 101
"When marketers start crowing that a new technique will cure all ills I'm as skeptical as the next guy, but Intelligent Content: A Primer really does address a number of issues at once. If your marketing goals include more efficient content teams, more personalized marketing messages, and reusable content that works across devices now and to come, intelligent content should be at the top of your to-do list."
— Jenny Magic, Speaker, Content Strategist, Raise Your Hand Texas
"Intelligent Content provides a brilliant exposition of concepts that go against the grain of current organizational thought surrounding content, its function, and production. Reversing the outmoded view of content as a mere end-product deliverable, the authors make a strong case for recognizing content's potential as a technologically-enhanced and generative unit for creative action and enterprise. A timely book, Intelligent Content does an excellent job at mapping out the future of content production—its concepts, methods, and technologies—all of which will be of interest to forward-looking organizations aiming to competitively enhance, innovate, and future-proof their content operations."
— Karl Montevirgen, Founder, Kontent Hammer
"It's no secret that business is transforming and that the ability to create powerful customer experiences is at the heart of much of this evolution. Marketing doesn't change content's purpose – content changes marketing's purpose. Content is what we are. The content-driven experiences we create will define the impact we have on our consumers. If you're looking for a business reason to get intelligent about your content, this book will help you find it. These three accomplished authors deftly make the case and teach the reader about intelligent content and its place in business."
— Robert Rose, Chief Strategy Officer, Content Marketing Institute
"We're in the golden age of content marketing, which is wonderful. Intelligent content is no longer the side conversation, reserved for technical writers and content engineers. Intelligent content design is now part of the central conversation related to content marketing. Fortunately, we have Scott, Ann, and Charles to help us keep all that content organized. If you were looking for a starting point into working with intelligent content, this is the book you've been waiting for."
— Buddy Scalera, Author, Speaker. Senior Director of Content Strategy at The Medicines Company