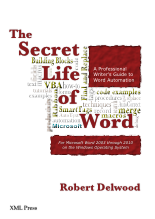 The Secret Life of Word
by Robert Delwood. $35.95 (print) $24.95 (ebook)
Robert Delwood's new book, The Secret Life of Word: A Professional Writer's Guide to Microsoft Word Automation, looks at Word from the perspective of technical and other professional writers. It gives you an insider's view of the hidden automation capabilities of Word, many of which you can use without being a programmer.
Microsoft Word automation explained
The Secret Life of Word will help you master the full gamut of Word mysteries, including AutoCorrect, QuickParts, BuildingBlocks, macros, Smart Tags, VBA basics, and much more. There's something here for everyone who uses Microsoft Word, from new users to experts.
Inside the Book
Preface
Introduction to Word Automation
Creating Macros
Find and Replace
Fields, Form Fields, and Content Controls
AutoCorrect and AutoText/Building Blocks
Smart Tags
Exchanging Data
Code Samples
Automation Related Topics
Step-by-step examples
With over 200 examples and dozens of detailed procedures, The Secret Life of Word guides you step-by-step, showing you how to clean up HTML, create and use Smart Tags, use wildcards and regular expressions, and much more. Nearly all of the examples are freely available for download from this site.
About the Author
Robert Delwood is a programmer, writer, and programmer-writer based in Chicago and Houston. He specializes in API documentation. With more than 18 years' experience, he's documented APIs and built SDKs for Windows kernel-level device drivers and speech recognition for Microsoft, written help desk procedures and manuals for the military, and developed applications for NASA that, in part, help make sure astronauts have clean underwear, something that at least the other astronauts appreciate.
His other specialty is Microsoft Office automation with VB/VBA and .NET VSTO. Automation can be used by every writing team, and often they have a clear cut need for it but just don't recognize it. He's authored two books, most recently The Secret Life of Word) about Word's automation for technical writers, non-programmers, knowledge workers, or anyone who wants to do more things quickly with Word. He also lists over 20 magazine and trade journal articles.
What are They Saying?
"I've never come across another book like it, and my experience using Word since reading this book has been a fun learning experience. Excellent!"
– Sandra Review at goodreads
The Secret Life of Word tackles some of the higher end topics in Microsoft Word like creating macros, find and replace; fields, form fields, and content controls; building blocks; and smart tags in an easy to digest manner that is accessible to even non-Word geek technical communicators.
– Will Kelly Full Review
"It's an essential reference for any technical writer who has to use Word for anything more than the occasional memo."
– Keith Soltys Full Review
"I consider myself a 'professional writer' but was amazed to find out all the things I DIDN'T know! Robert's explanations are clear, concise, and easy to follow. Furthermore, I was able to take his instructions on creating a macro in Word and use the information to create macros in Excel–and that's the mark of a master teacher and writer! No writer should navigate Word without this book."
– Robbie Brewington
"I've waited for a long time for a book such as this. It's very good. It delivers clear information about Word 2010 with writing that's fresh and human, as though you were being coached by a knowledgeable and helpful co-worker."
– Karl Hakkarainen Full Review
Book Extras