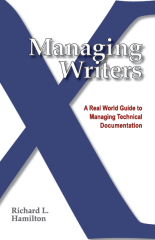 Managing Writers: A Real World Guide to Managing Technical Documentation
by Richard L. Hamilton, $29.95 (print), $19.95 (eBook)
Download Free Sample Chapter (ePub) (Mobi) (PDF)
Download Free Sample Chapter to Stanza Reader
Note: This book is available through Amazon, but in the US and Canada, it is only available through a third party that charges more than either Bookshop.org or Barnes & Noble. Therefore, I've removed the link. If you need to purchase it through Amazon, or are outside the US, you can easily find it using search on your local Amazon site.
Managing Writers is a practical guide to managing technical documentation projects in the real world; a world where your managers have little interest in what you do, as long as you do it on time, a world where you have to fight for every bit of leverage you can get, a world where you need to understand and manage technology that is unique to documentation, and a world populated with a wildly diverse group of people.
The book is informal, but concise, using examples from the author's experience working with and managing technical writers. It looks beyond big project, big team methodologies to the issues faced by smaller, less well-funded projects.
Managing Writers is for technical writers, both freelancers and employees, documentation managers, marketing managers and product development managers; anyone who may need to manage, full or part-time, a documentation project.
Outline
Managing Writers has three major parts: Leading People, Leading Projects, and Leading Technology:
People

How do you manage technical writers?

Managing Writers provides concrete strategies and tactics for hiring, motivating, managing change, evaluating performance, outsourcing, and off-shoring.

Projects

How do you manage documentation projects in an environment where documentation is overlooked and not respected?

Managing Writers outlines techniques to help you increase your team's influence, manage schedules effectively, balance multiple projects, and collaborate effectively with the rest of the product development team.

Technology

How do you manage the technology that supports documentation development and delivery?

Managing Writers will help you decide what technology you need, what you don't need, how to acquire what you need, how to avoid common pitfalls, and how to stay ahead of the technology curve. It goes into depth concerning XML, content management, and modular documentation.
About the Author
Richard L. Hamilton is Founder and CEO of XML Press. He began his career at Bell Laboratories developing computer software and has worked at AT&T, Unix System Laboratories, Novell, and Hewlett-Packard in jobs ranging from software development to product management to documentation management.
In 2008 he founded XML Press, which is dedicated to producing high quality, practical publications for technical communicators, managers, marketers, and the tools builders and engineers who support their work.
Richard is the author of Managing Writers: A Real-World Guide to Managing Technical Documentation, and editor of the 2nd edition of Norm Walsh's DocBook: The Definitive Guide, published in collaboration with O'Reilly Media.

Print This Page
What are They Saying?
"I found Hamilton's advice on managing projects invaluable; this should be required reading regardless of whether you are a lone writer or part of a large team."
— Arnold Burian, Full review at Unconditional Text
"A Must Read"
— Scott Abel, The Content Wrangler
"It puts the common obstacles and frustrations of technical writing into words that R&D and managers can understand"
— Teresa Mulvihill, LiveTechDocs
"A book every manager should have on his or her shelf"
— Tom Johnson, idratherbewriting.com
"Technical writers new to management should find the book helpful when navigating the unfamiliar waters of HR, project coordination, and technology acquisition; experienced managers new to the technical writing team will appreciate the insights into this specialized branch of technology."
— Jeannine Klein, Ph.D, Full review at Techwr-l
"a MUST-READ for new and existing managers of technical communication teams."
— Emma Hamer, Full Review at The Content Wrangler
"It's a good read, with useful information for managers, writers and technical communicators alike."
— Sarah Maddox, Full review at ffeathers
"A new documentation manager without a lot of experience will find Managing Writers indispensable."
— David Kowalsky, Full Review in Sound Views (PDF)
"clearly organized and a fast read."
— Anne Gentle, Full review at JustWriteClick.com
---
Book Extras