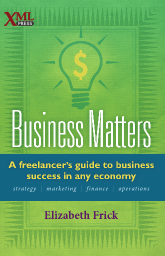 The Society for Technical Communication (STC) journal, Technical Communication, has published a review of Bette Frick's Business Matters: A Freelancer's Guide to Business Success in Any Economy.
From the review, written by Kristin Kirkham-Broadhead, "Frick writes in a refreshing tone with her blatant honesty, showcasing the roller coaster of emotions you deal with in creating and maintaining your own business. She starts off with a soul-searching questionnaire that makes you look hard at your own life to see if being an independent is right for you. And although you don't get to calculate a score, by the time you think through all of the questions, you know the right answer…. I suggest you pick up Business Matters. You'll certainly learn more about yourself and which path is right for you."
For more information, go to the book page for Business Matters. The full review is re-posted here.