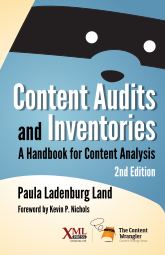 The second edition of Content Audits and Inventories: A Handbook for Content Analysis, by veteran content strategist Paula Land, is now available.
This edition updates and expands the first edition, focusing on the importance of the strategic, as well as the tactical, aspects of the content audit. It includes expanded chapters on planning and preparation, building a business case, getting buy-in from your organization, working with teams, selecting and defining audit criteria, incorporating audits as part of ongoing governance, and much more.
New in this edition are chapters on auditing social media channels, apps, brand/messaging, content structure, and accessibility. Also new in this edition are case studies from industry professionals who share their audit experiences and outcomes.
For more information: Book page for Content Audits and Inventories: A Handbook for Content Analysis