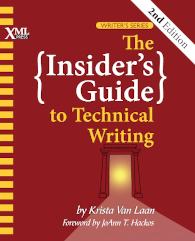 The first edition of Krista Van Laan's popular book The Insider's Guide to Technical Writing has guided a generation of technical writers who are either starting out or seeking to take their skills to the next level.
This classic has now been updated for the technical writer of today. Today's tech writers truly are technical communicators, as they build information to be distributed in many forms.
Technical communication requires multiple skills, including an understanding of technology, writing ability, and great people skills. Wherever you are in your journey as a technical communicator, The Insider's Guide to Technical Writing can help you be successful and build a satisfying career.