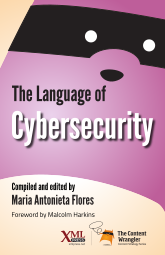 The Language of Cybersecurity, the latest book in The Content Wrangler Content Strategy Book Series, is released today, July 15, 2018, and is available through print and ebook retailers worldwide.
Through August 31, 2018, this book will be on sale for $14.95 (regular price $19.95) at the XML Press eBook Store
The Language of Cybersecurity defines 52 terms that every business professional should know about cybersecurity, even professionals who are not specialists. Anyone who uses any kind of computing device needs to understand the importance of cybersecurity, and every business professional also needs to be able to speak intelligently with cybersecurity professionals.
Expertly compiled and edited by Tonie Flores, this book is an essential reference for cybersecurity experts, managers, students, and anyone who uses a computer, tablet, smart phone, or other computing device.
About the Editor
Tonie Flores has guided business and systems professionals through the complexities of selecting and implementing leading-edge information processing solutions. Her work as a systems engineer, instructor, change management specialist, and technical writer has benefitted information technology users from the shop floor and back office through the C-suite in the United States, Latin America, and Asia.
Tonie's work has earned speaking and technical writing awards and the honor of Associate Fellow of the Society for Technical Communications (STC).