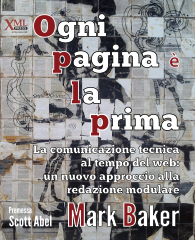 Ogni pagina è la prima, the Italian translation of Mark Baker's Every Page is Page One, is available in print from Amazon and other ebook retailers. It is available in ebook form from the XML Press ebook store.
The translation was done by Gianni Angelini, a well-known technical communicator in Italy. Gianni is the author of Il comunicatore tecnico: Guida pratica alla professione (The Technical Communicator).
You can read more about this book in Italian in a blog post titled Ogni pagina è la prima: un bel regalo! by Alessandro Stazi. if you can read Italian, check it out. If you don't speak Italian, the auto-translation to English is pretty good (in Chrome, anyway).
Coming Soon: for those of you waiting for Mark Baker's next book, Structured Writing, the wait is almost over. We anticipate a late summer, early fall release.