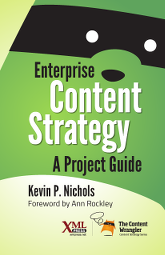 Kevin Nichol's Enterprise Content Strategy was named by Firehead Ltd. as one of the 10 gift books for digital communicators for 2017.
The article says, "Nichols outlines some of the best practices for conducting and executing content strategy projects for your business. Expect many definitions, questions to ask, checklists and guidelines to give you a good grounding in enterprise CS."
Congratulations to Kevin for this well-deserved recognition.