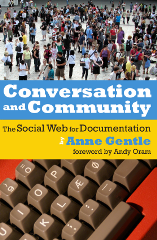 Here is the front cover art for Conversation and Community, designed by Patrick Davison. Both Anne and I are very pleased with both the cover art and the interior design of the book. And, in keeping with Anne's commitment to Creative Commons Licensing, the pictures used in the cover are both under Creative Commons licensing (see Credits).
We are getting near the publication date for Conversation and Community and expect to have it available for order by early July. Right now, Anne is gathering technical review and copy-edit comments and working on the penultimate draft.
If you would like more information, subscribe to our RSS Feed or sign up for email alerts. If you choose the email signup, you will automatically be entered into a drawing for a free copy of Conversation and Community.