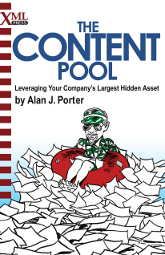 Alan J. Porter's latest book, The Content Pool: Leveraging Your Company's Biggest Hidden Asset, is now available for purchase at Barnes and Noble, Amazon.com, and other online retailers.
The four basic functions of any company are to create a product or service, sell it, collect the money for it, and create content about what they do. Product development, Marketing, Sales and Finance are all recognized as essential to the organization and are often reflected by VP or CXO level responsibility, yet a company's content, which contains all of its intellectual property, is often overlooked. Whether they realize it or not every company's secondary role is that of being a publisher.
The Content Pool makes the case for placing content creation, management and distribution on a par with other core strategic business activities using stories, anecdotes, and examples from Alan Porter's extensive experience in industry.
As with Porter's previous XML Press book, WIKI: Grow Your Own for Fun and Profit, The Content Pool is illustrated by Douglas Potter, who also designed the cover.