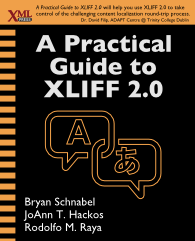 A Practical Guide to XLIFF 2.0
by Bryan Schnabel, JoAnn T. Hackos, and Rodolfo M. Raya
$35.95 (print), $24.95 (ebook).
A Practical Guide to XLIFF 2.0 introduces the OASIS XLIFF standard. Companies use XLIFF to standardize the exchange of source and localized content with localization and translation vendors.
You will learn how to get the most from the XLIFF standard, use best practices in your translation workflow, extend XLIFF, and use the XLIFF modules.
This book is for localization coordinators, technical writers, content management system vendors, localization service providers, and consultants who want to incorporate XLIFF into their customers' publishing workflow.
Inside the Book
Getting Started: introduces XLIFF, the translation process, and the major parts of XLIFF, including the core and modules.
Applied XLIFF: describes how XLIFF supports translation of XML (including DITA), websites, office documents, graphics, and software user interfaces.
XLIFF Core: introduces the XLIFF core features, including:
Preserving document structure
Marking up text for translation
Segmentation and sub-flows
Fragment identification
Extensibility
XLIFF Modules: introduces the XLIFF modules, including:
Translation Candidates
Glossary
Format Style
Metadata
Resource Data
Change Tracking
Size and Length Restriction
Validation
XLIFF 2.0 Structure: describes the XLIFF 2.0 schemas, including the core structural and inline elements and module schemas.
Examples: detailed examples, including XSL code, for transforming XML source files into and out of XLIFF.
About the Authors
Bryan Schnabel
Bryan Schnabel is chair of the OASIS XLIFF Technical Committee. He has written software programs for XLIFF and DITA.
JoAnn T. Hackos
JoAnn T. Hackos is founder and president of Comtech Services, Inc., an information strategy consultancy based in Denver, Colorado. She was one of the founders of the DITA standard.
Rodolfo M. Raya
Rodolfo M. Raya is CTO at Maxprograms, where he develops cross-platform translation/localization and content publishing tools using XML and Java technology.
What are They Saying?
"A Practical Guide to XLIFF 2.0 will help you use XLIFF 2.0 to take control of the challenging content localization round-trip process."
— Dr. David Filip, ADAPT Centre @ Trinity College Dublin
Book Extras