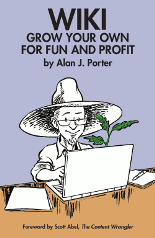 WIKI: Grow Your Own for Fun and Profit
by Alan J. Porter. $29.99 (print), $23.95 (eBook)
Free Sample Chapter – 10 Questions: A Checklist
Free Sample Chapter – XML Press Case Study
Looking for a way to increase team collaboration, manage your company's knowledge? Do you need a way to manage projects with customers or suppliers outside your company firewall? Would you like your customers to provide feedback on the information you publish? Then a wiki might be just what you are looking for.
Perhaps you have already decided that you should use a wiki, but are not sure how to go about it. Maybe you have a wiki but would like to encourage more people to use it. Or you would just like to learn more about the practical applications for this fast growing technology.
Then this is the book for you.
WIKI: Grow Your Own for Fun and Profit introduces the concept of wikis and shows why they are becoming the must-have communications and collaboration technology for businesses of any size.
The book includes several case studies highlighting the ways that various companies are using wikis to solve differing business and communications issues, and the resulting benefits in terms of both efficiency and customer satisfaction.
Inside the Book
Introduction

What Can You Expect from This Book?
What is a Wiki and Why Should I Care?
Why the Model of a Static Web is Flawed
Aren't Wikis Inaccurate?
Where Do Wikis Fit with Web 2.0?
Why Would You Need to Use a Wiki?
Remembering the Alamo
Today's Business Challenges
Doing it Ourselves

Defining the Wiki

What is a Wiki Anyway?
The Growth of Wikis
What are Wikis Used For?

Planting The Seed – Think Before You Implement

Building the Seed Team
Seed Questions
Why Use a Wiki?
Selecting the Right Wiki

Nurturing the Seedlings

Finding the Initial Information for Your Wiki
Selecting Information to Seed the Wiki
Importing Information into the Wiki
Wiki Markup
Creating the Initial Navigation and Hierarchies
Design for the Culture, not the Process
Social Reinforcement
Setting Expectations for Participation

First Growth

Structure or Chaos?
Wikis are Content-driven, not Layout-driven
First Steps – Personal vs. Company Approach
Sustaining Growth – Encourage, Don't Mandate
Don't Let Go – Keep Reminding Them

Maintaining the Garden

Identifying the Gardener
The Gardener's Tasks
Scheduled Maintenance
Developing a Sense of Ownership

Landscaping

When to Start Landscaping
Recognizing and Exploiting Wikipatterns
Ownership and Control
Reorganizing Content
Redesign is Inevitable – Be Prepared

Organic Growth

Cross-Fertilization
Single Login
Cross Linking
Community Gardening
Building Community
Reaching Critical Mass

Harvesting the Information

User-Generated Content
The Myth of Inaccuracy
Defining User-Generated Content.
Managing the New Content
Managing Content Ownership
Incorporating Feedback
Publishing to the Wiki from Other Sources
Round-Tripping
Publishing from a Wiki

A Cornucopia of Content

Ongoing Maintenance
So What About the "Fun & Profit"?
A Final Stroll Around the Garden
Case Study 1: A Wiki-Driven Company
Case Study 2: Building an International Community
Case Study 3: Meeting a Specific Business Need
Case Study 4: Wiki Document Content Strategy
Case Study 5: A Wiki Workflow for Publishing
Appendix A: 10 Questions – A Checklist

What Business Issue Will the Wiki Resolve?
How Will You Measure Success?
What is the Expected Return on Investment?
Where Will the Content Come From?
Who Will Use the Wiki Initially?
Who Will Use the Wiki in the Future?
Who Will Own the Wiki?
Where Will the Wiki be Hosted?
Which Wiki Should I Use?
What Controls Will I Need?

Appendix B: Common Barriers to Adoption

Cultural Barriers
Technical Barriers

Appendix C: Anyone Can Edit: Myth vs. Reality
Appendix D: Notes on Popular Wikis

Confluence
DokuWiki
MediaWiki
MindTouch
MoinMoin
MyWiki
PBworks
ProjectForum
TiddlyWiki
TikiWIki
Trac

Resources
Acknowledgments
Index
What are They Saying?
"This is going to be an indispensable book for people who want to get a wiki going."
— Sarah Maddox, ffeathers.wordpress.com
"Wiki-master Alan Porter has provided you with everything you'll need to know to determine if a wiki might help you solve your content problems and, perhaps more importantly, whether a wiki will be a good fit for your organization."
(From the Foreword)
— Scott Abel, The Content Wrangler
"Alan's book is a welcome addition to the promotion of wikis and wiki culture."
— Tom Johnson, I'd Rather Be Writing
"does a great job of introducing this most powerful collaboration and knowledge management tool, wikis."
— Pancho Castano, Elsmar Cove Forum
"Alan, I'm pleased to say, has not been seduced by the software, but has set the use of a wiki within a very usable framework. He's spot on when it comes to the benefits a wiki can offer and the implementation approach to take."
— Ellis Pratt, Cherryleaf Blog
About Alan J. Porter
Alan Porter has 20 plus years experience in corporate communications, marketing, and content development in both the UK and the USA. Alan is a catalyst for change with a strong track record in developing new ideas, embracing emerging technologies, and introducing operational improvements. He has been involved in the development and adoption of various industry standards, and is a regular speaker at industry conferences, blogger and Twitter addict, who is happy to talk communications to anyone who will listen. He is also a published author with several books, comics and numerous magazine articles to his name.
Book Extras