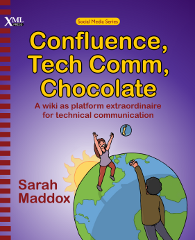 Confluence, Tech Comm, Chocolate: A wiki as platform extraordinaire for technical communication
by Sarah Maddox.
Out of print – August, 2014
We're sorry to announce that this book is now out of print. The current version of Confluence has enough differences from the versions covered by this book that, while the book still serves as a solid introduction to Confluence, it is no longer up to date with the latest software. Therefore, Sarah has asked that we take the book out of print.
Thanks to everyone who purchased a copy of this book. We hope you found it useful. If you think a new edition would be helpful, please let us know. If there's enough interest, we'll try to convince Sarah or another qualified author to create a new edition.
Original Description
Web and Tech Comm guru Sarah Maddox takes you inside the Confluence wiki for an in-depth guide to developing and publishing technical documentation on a wiki. She looks at life on a wiki from a technical writer's point of view and from a reader's point of view. Confluence, Tech Comm, Chocolate shows you how to make your wiki fly.
While it focuses on Confluence, the concepts and strategies can be used with any wiki. The basic message is that technical documentation becomes true communication when you add the social and collaborative tools that a wiki provides.
And, there's chocolate.
Who is the girl on the cover?
Her name is Ganache, and she is the hero of the book. She is a technical communicator extraordinaire. When you read the book, you will follow Ganache as she sets up a Confluence wiki and adds a technical documentation space. Learn from her expertise with the wiki editor and macros. Share her adventures in agile development and search engine optimisation. Grow wings, as Ganache does, and make your wiki documentation fly. Discover why Ganache says we need a "kiss my wiki" attitude.
Guess her name contest
Congratulations to Jill Brockmann, who correctly guessed Ganache's name in our contest.
Inside the Book
Introduction

Welcome to this Book
Introducing the Wiki
Getting to Know Confluence Wiki

Developing Technical Documentation on a Wiki

Planning Your Wiki Documentation
Getting Started on the Wiki
Developing Content
Structure and Style
Content Reuse and Templates
Findability and Searchability
Workflow and Release Management
Exporting and Importing Content
Building Online Help

Life on a Wiki

A Day in the Life
What's Happening on the Wiki
Wiki Best Practices and FAQ
Going Agile

Giving Your Wiki Wings

Engaging Your Readers
Gathering Feedback on the Documentation
Updates by Everyone
Pages that Walk and Talk
Twitter, Wiki, and Games
Doc Sprints
Driving Wiki Development

So Long and See You on the Wiki
Glossary
Index
What are They Saying?
"Wiki wants you to work with others to incrementally write what will be incrementally read. Sarah wants you to approach this task with powerful tools and the confidence to wield them well. I want language and thought to find a happy home on the computer and look forward to our continuing progress together. And, of course, we all want chocolate."
— Ward Cunningham, inventor of the wiki
"… an absolute pleasure to read from beginning to end."
— Patty Blount, Full Review
"I would highly recommend Sarah's new book to anyone currently using, planning to use, or simply interested in learning more about what a Wiki is, and how to use it as a platform to facilitate the type of writing you're involved with."
— Randall Ward, Full Review with wine and chocolate pairings
"…there's a lot of "meat" in this book."
"If you're interested in collaborative authoring, wikis, Confluence, chocolate, working in an Agile environment or where technical documentation is going, then it's worth getting this book."
— Ellis Pratt, Full Review at Cherryleaf.com
"Sarah's book provides fresh industry perspectives for healthy documentation strategy freedom, and vital keys to her craft."
"I consider Sarah Maddox to be one of the most brilliant and daring documentation professionals out there!"
— Ellen Feaheny, Full Review at appfusions.com
Book Extras
About Sarah Maddox
Sarah Maddox is a technical writer at Atlassian, makers of software tools for technical teams. She started her working life as a software developer in South Africa and Europe, did a stint as a book indexer, and then moved into the best job of all: writing docs that rock. She now lives in a house on a hill in Australia amongst the kookaburras and possums. You can read Sarah's blog at: ffeathers.wordpress.com