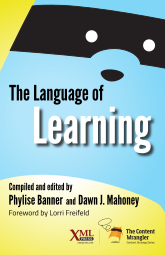 The Language of Learning
Edited and compiled by Phylise Banner and Dawn J. Mahoney.
$25.95 (print) $19.95 (Ebook).
Buy the eBook bundle at the XML Press eBook Store
The Language of Learning introduces the field of education to business professionals through the terminology that defines the field. It includes definitions of 52 terms that business professionals need to know about business education and training. Each term has a definition, a description of why that term is important, and an essay about why business professionals need to know this term and how they can use it. Each of the 52 terms was contributed by a leading expert in that specific area.
Businesses need to ensure that their employees have the skills they need to be effective in their jobs. Education and training are a critical part of ensuring this is the case. The Language of Learning provides the vocabulary and concepts professionals need to understand so they can work with learning specialists to design training and education programs that are effective and efficient.
Inside the Book
The Language of Learning is a collaborative effort with fifty-two expert contributors, all known for their depth of knowledge. You will probably recognize many of their names, and you will probably want to learn more about the ones who are new to you. Each contributed term has a concise definition, an importance statement, and an essay that describes why business professionals need to know that term.
In addition to the 52 main terms, there is an extensive glossary with more than 90 additional terms and more than 150 references for further exploration. The Language of Learning is a must-read for business professionals and learning and development specialists.
Terms are grouped into five categories:
Design: High-level choices you need to make about professional education.
Strategy: The resources and actions you take to reach your educational goals. These terms focus on educational philosophy.
Implementation: How you can put your plans into action.
Evaluation: How you can measure whether learners are gaining the skills they need.
Innovation: Newer methods that have the potential to change and improve our educational methods.
About Phylise Banner
Phylise Banner is a learning experience designer with more than 25 years of vision, action, and leadership experience in transformational learning and development approaches. A pioneer in online learning, she is an Adobe Education Leader, Certified Learning Environment Architect (CLEA), Project Management Professional (PMP), Society for Technical Communication (STC) Fellow, performance storyteller, avid angler, and aviation enthusiast. She is also the proud owner of a 1967 Amphicar.
About Dawn J. Mahoney
Dawn J. Mahoney, CPTD (Certified Professional in Talent Development), is passionate about developing better learning content, better learning strategy, and better dialog-all of it to help facilitate people's success. She loves to see the moment when the learning dawns on her learners and they begin to get it. In 2015, Dawn founded Learning In the White Space, which is a boutique consultancy devoted to all of the above.
What are They Saying?
"Boy do I wish I had a resource tool like The Language of Learning to guide me through my initial immersion in all things learning and training."
— Lorri Freifeld, from the Foreword