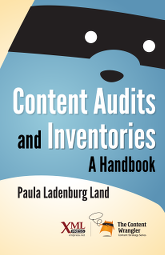 Content Audits and Inventories
by Paula Ladenburg Land. $24.95 (print) $19.95 (ebook).
Successful content strategy projects start with a thorough assessment of the current state of all content assets — their quantity, type, and quality. Beginning with a data-rich content inventory and layering in a qualitative assessment, the audit process allows content owners and business stakeholders to make informed decisions.
Content Audits and Inventories, by veteran content strategist Paula Land, shows you how to begin with an inventory, scope and plan an audit, evaluate content against business and user goals, and move forward with a set of useful, actionable insights.
This practical, tactic-filled handbook walks you through setting up and running an inventory using an automated tool, setting the stage for a successful audit. Specific audit tactics addressed include auditing for content quality, performance, global considerations, and legal and regulatory issues. You will also learn how to do a competitive audit and incorporate personas into an audit. Tips on presenting audit results to stakeholders will help you deliver effective strategies.
Inside the Book
Foreword
Preface
Introduction
Laying the Groundwork

Building the Business Case
Planning an Inventory and Audit Project
Assembling the Team
Creating a Content Inventory
Preparing for a Content Audit
Ready, Set, Audit!

Building and Delivering the Audit

The Multichannel Audit
Using Personas and Customer Journeys in Audits
Auditing for Content Quality
Auditing for Content Effectiveness
Auditing Competitor Sites
Auditing for Global Issues
Auditing for Legal or Regulatory Issues
Presenting Audit Findings
The Role of Content Inventory and Audit in Governance
Conclusion

Inventory and Audit Resources

Appendix A: Content Inventory Spreadsheet
Appendix B: Stakeholder Interview Template
Appendix C: Content Audit Checklist
Appendix D: Sample Persona
Appendix E: Customer Journey Map
Appendix F: Sample Gap Analysis Map
Appendix G: Content Audit Template

Additional Reading
Glossary
Index
About Paula Ladenburg Land
Paula Land is a content strategy consultant and a technology entrepreneur. As founder and principal consultant at Strategic Content, she develops content strategies and implementation plans for private clients ranging from nonprofits to large ecommerce sites. As cofounder of Content Insight, she is the impetus behind the development of CAT, the Content Analysis Tool, which creates automated content inventories. Before founding her own businesses, Paula was a user experience and content strategy lead for Razorfish, a leading digital agency, where she led the content strategy on the development of enterprise-level websites, redesigns, and CMS implementations.
Paula has worked for over twenty-five years in content-related roles, spanning all aspects of the content lifecycle, with a focus on delivering large-scale, complex websites.
Paula is a frequent speaker at conferences and presents workshops and webinars on the topic of content inventories, audits, and analyses. She contributed the essay on content inventory to the book The Language of Content Strategy.
What are They Saying?
"No other book provides such detailed, do-able guidelines for the all-important content audit. An invaluable resource for anyone involved with wrangling the realities of online content!"
— Kristina Halvorson, President, Brain Traffic and author of Content Strategy for the Web
"This book goes on my must-have bookshelf for anyone interested in content management, content strategy, or information architecture, as well as anyone facing a major content management system or Web site retooling."
— Katherine (Kit) Brown-Hoekstra, Comgenesis, LLC, and past president of the Society for Technical Communication (STC). From her review in Technical Communication, Volume 62, Number 4, November 2015.
"This important work repositions the content audit as an ongoing process for organizations to adopt for performance-driven content. A must read for anyone working with content and making organizational decisions about content."
— Kevin P. Nichols, Director and Global Practice Lead, Content Strategy, SapientNitro
"Content Audits and Inventories: A Handbook goes well beyond the promise of its title, while keeping the advice straightforward and actionable. With this book, you'll be ready to thoroughly map out the dense content landscape of any digital project you undertake."
— Rachel Lovinger, Experience Director and Content Strategist, Razorfish
"Paula has done for content auditing what no one has done before: curated, assembled and commented on every possible angle you need to know to make your content auditing process smooth and successful. Being great at content starts with a great audit and being great at auditing starts with this handbook."
— Ahava Leibtag, President, AHA Media Group
"No one has covered this topic definitively before and Paula Ladenburg Land nailed it. Paula's exceptional book has demystified the project manager's bugaboo: the content audit. While a content inventory and audit are the foundation of any digital design project, this seemingly simple pair is often misunderstood, under scoped, and inappropriately staffed. Land clearly and concisely guides novices and experts alike through the audit process from the discovery phase to post-deployment governance.
Content Audits and Inventories: A Handbook is just that—the book you will have in hand throughout the life of a project. It's an indispensable manual for the bedrock documents of content strategy."
— Marlowe Sarah Beckley, Manager of Content Strategy, SapientNitro
"Content quality matters and it doesn't happen by mistake. Content Audits and Inventories: A Handbook gives content professionals a roadmap and a recipe for getting content quality right."
— Joe Gollner, Director, Gnostyx Research Inc.
Book Extras