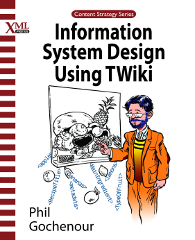 Information System Design Using TWiki
by Phil Gochenour. $19.95 (print), $9.99 (eBook)
Buy eBook in O'Reilly eBookstore
Combining real-world experience with a veteran teacher's ability to communicate, Phil Gochenour's Information System Design Using TWiki demonstrates the basic principles behind any system design, whether it's a cookbook or a software company's wiki. Gochenour's book builds an information system step by step, starting with the building block of all information systems, the topic, and continuing through metadata, search, to usability. With sample code that can be used to construct a complete, usable system on the TWiki wiki platform, Information System Design Using TWiki will help you harness the power of the TWiki wiki.
Whether you are looking for a way to learn the basics of information system design, or are someone who works with TWiki on a daily basis and wants a handbook and more extensive user's guide, this book is for you.
Inside the Book
Getting Started with TWiki

Wikis and TWiki
Setting Up TWiki
A Quick Guide to TWiki Text Formatting
Getting Started with TWiki Webs
Web Utility Topics and How to Use Them

Information Design

Information System Design: Introduction
Information System Design 1: Topics
Information Design 2: Topic Templates
Metadata and Usability
Search and Information Retrieval Mechanisms
Tagging and Other User Interactions with Content

TWiki How-to

TWiki How-To: Introduction
Setting up and Using TWiki Forms/WEBFORMS
Creating New Topics with HTML Form Inputs
Using %SEARCH% to Display Topic Lists
Building a Topic Browser
Building a Knowledge Base
Displaying a Tag Cloud for the Web
About Phil Gochenour
Phil Gochenour holds a PhD in comparative literature, specializing in media studies, from Emory University. His academic positions include Visiting Assistant Professor of Digital Media Studies at the University of Virginia and Assistant Professor of English and New Media at Towson University, where he was also director of a post-baccalaureate online certificate program in technical writing and information design.
His experience in the technology industry includes information architecture and technical writing positions at CNET Networks, Inc. and Metaweb Technologies. Currently he is a technical writer consultant for Dell at the company's Silicon Valley Development Center, where he develops user information systems for Dell's SMB cloud business applications.